Cactus and Canyons
Notice: You have arrived at my old website. PLEASE go to StonessRvTravel.com
PDF Download Now Only $4.99 USD
Cactus and Canyons, a CD tour guide, is the second of a series of books on Scenic Tours of North America, and covers Central and Southwestern USA. Many travel books provide tours through a particularly scenic area, and then jump to another scenic area. The Cactus and Canyons tour guide not only covers these areas but also includes them in a complete Minitour that connects with other Minitours. With a little planning you can follow a charted tour for most of your trip through Colorado, Utah, California, New Mexico, Arizona, Texas and other states within the coverage area of the book.
The Cactus and Canyons, tour guide is written in a manner that makes it an extremely useful book that the average family can use to select the most interesting route to a southwestern destination. All Minitours are outlined on a large area map placed near the front of the book making it easy to locate a destination and select Minitours that go in that general direction. Then read each of those Minitours and string together those Minitours that you like best. Your trip is now ready.
The wide selection of 44 Minitours and almost 13 Parktours is designed to take you through areas of unusual scenic wonders, or geological phenomena, many of which are off the 'beaten path'. The extensive Table of Contents leads the reader quickly to the information listed under each Minitour. A map of the Minitour accompanies each Minitour, and some areas are expanded to provide more detail. The excellent number of parks covered along with park maps make the book an invaluable addition to anyone's travel library.
Cactus and Canyons tour guide will provide the readers with sufficient information for them to plan a scenic and enjoyable trip before they even leave home. Cactus and Canyons provides for a wide variety of interests. Train buffs will appreciate the references to places for train watching, or the locations of some of the great steam locomotives from the past. Whether it's a visit to museums, artifacts, model trains, old forts, or a dinner tour on an old scenic railway, the reader is sure to find something that fits his interests.
The plentiful full colour maps and photographs make this book an attractive gift for the armchair reader, as well as for the seat of the car, or RV. Cactus and Canyons makes it easy and fun to plan your vacation road trip. It would make an excellent gift for SnowBirds heading to the USA Southwest.
PDF Download Now Only $4.99 USD
From the Book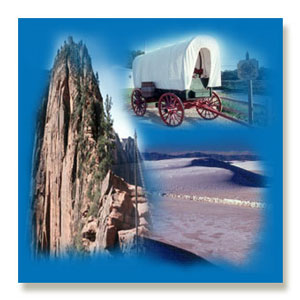 ...Pictures often portrays the wagons all travelling in single file, stretched out for miles. In fact, often they went two, three and four abreast, in lines as short as possible. The arrangement helped keep down the dust, and they could quickly form into protective circles if attacked. In places where wagon ruts are still visible you are sometimes able to make out the four sets of tracks and there are references in this Minitour to some places where the ruts are deep enough for you to see them. Where it was flat and easy going each wagon likely picked out the smoothest piece of land to drive on....
Chapter One, Minitour 1, The Santa Fe Trail, Pg. 3
---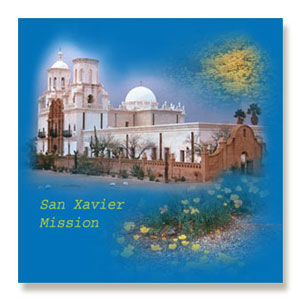 ...Fort Stockton had a fort to protect people from Indian attacks in 1859. Here you will see a statue of a 22-foot long roadrunner. These elusive birds are often observed running across the highway and vanishing into the underbrush. This one would be hard to miss! Leaving the town, you climb slowly over the Glass Mountains, reaching 4700 feet. As you descend, your southern view is filled with a rugged assembly of brown mountains that make up Big Bend NP. The climb over the Santiago Mountains and through Persimmon Gap into the park follows a route that people have travelled for hundreds of years...
Chapter Four, Minitour 42, Gainesville to Big Bend NP, Pg. 214
---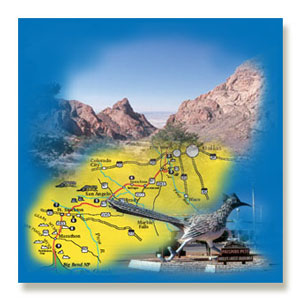 ...San Xavier Mission. This beautiful building dates from the late 1700's. Two towers grace the building's front, but only one was totally completed. The missionaries selected this region to build their mission for the Papago Indians. Here the river's waters sometimes reach the surface, or close enough to it that it was possible for the Indians to live. Generally the river appears dry while its waters ooze through the sands below the surface...
Chapter Three, Minitour 30 Lordsburg to Picacho Peak via Tombstone, Pg. 157